During the first hour of this Panel conversation, some of our special guests will share their experiences about their own journey into Spiritual Healing and how that miracle has informed their lives.
In the second hour, our panelists and other healers from around the world, will surround the audience with a powerful healing circle. These healers will lead us in guided visualization, ritual music, and meditation experience to help heal our inner hearts, culminating in a powerful intentional prayer for world peace and human freedom.
Shima Moore, Moderator is a lifelong Spirit-Mind-Body community activist and curator, co founder and editor-in-chief of Perceptions magazine, co- founder and Program Director emeritus of the Los Angeles Conscious Life Expo and co-founder of SF Bay Area's 5D_StarPortal and 5D Healing Community. Shima is a certified astrologer and certified facilitator of The Stargate Experience.
Dr. Susan Shumsky is a pioneer in the human potential field and has has taught meditation, prayer, affirmation, and intuition to thousands worldwide for 50 years. She is the best-selling, award-winning author of 13 books, published by Simon & Schuster, Random House, and New Page.
Dr. Ibrahim Jaffe, MD has pioneered Medical Spiritual Healing (MSH) worldwide which integrates the secrets of Sufi Spiritual Healing with traditional Western and complementary medicine. Dr. Jaffe is Chancellor of the University of Medical Spiritual Healing and is also a spiritual guide (Murshid Murabai Ruhi) within the Sufi Tradition.
Shaman Durek is an evolutionary innovator, spirit hacker, women's empowerment leader, and a visionary for the New Age. Durek has devoted decades to study and practice in becoming a thought leader and spiritual enthusiast for people all over the world. Today Durek teaches and conducts private sessions with a diverse clientele from all walks of life all over the world—from the Princess of Norway to CEO's, children, Hollywood celebrities, health leaders, and more.

Hanson Tse Unifying varying traditions of understanding, Hanson offers unparalleled healing work and spiritual growth accompanied by revolutionary, philosophical insights into the functioning and potential of ourselves as human beings. Results are rapid, deep, and transformational. He is also the developer of WAMBI Exploration™. More info at www.hansontse.com.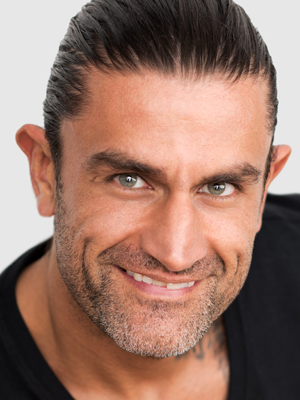 Jerry Sargeant is an author, speaker, and facilitates healing with a powerful Extra-Terrestrial Light Frequency, Star Magic. He knows transformation, working with the world's most dangerous criminals to discovering the most powerful healing modality on Planet Earth. Jerry's ability to heal has been likened to some of the most influential healers in history, healing broken bones, tumours, cysts, fibromyalgia, hearts, broken relationships, and super-charging businesses to achieve massive success.
Geozuwa Ascended Healer, passionate about getting people out of their own way to access their Infinite potential. He teaches all levels to easily connect to Source, realizing they are powerful healers and absolute creators. Geozuwa offers the best in Hypnosis services, CDs, Hypnosis Certification and NLP Trainings, and Psychic, Metaphysical, and Healing Workshops. Author of The Other Side: Visit Now! and Host of "SoulMate Talk" TV. www.AscendedHealer.com
Carolyn Coleridge, LcSW, is a psychotherapist, intuitive, and healer. She is a meditation and universal wisdom teacher at the Den Meditation Center. She has a private practice in West Hollywood of readings, healings and counseling. She teaches about intuition and sprituality in mental health.


JC Gordon
is an international speaker, author, and Founder of the Grail Academy of Higher Consciousness. His insights on ascension come through his Near-Death Experience where he remembers with great clarity being guided to the Source of Life and downloaded with its great thought and consciousness perspective as to why life is, which included the simple steps to be part of the Universal Minds ascension process. His latest books Beyond Consciousness and The Quest to Perfection are quickly being accepted as the next consciousness leap forward and ultimate evolution of mankind. www.thegrailacademy.co
m
Mona Delfino is a "Quantum Shaman" who uses and teaches the Alchemy of Science and Spirituality. She is a Master Healer, author, National Speaker, and leader in Medical Intuition.