This Panel brings together an eclectic group of Psychic Mediums who are able to communicate with the other side. The side beyond the veils of our everyday life. These gifted readers will share with you what they learn from beyond this physical dimension.
Get ready for a highly engaging 2 hour experience!
Moderator: Joseph Martin
Moderator Joseph Ernest Martin is an Award-Winning psychic of over 25 years and international author. He is host of the award-winning Paranormal Insights TV show and Magic Minute Web Series.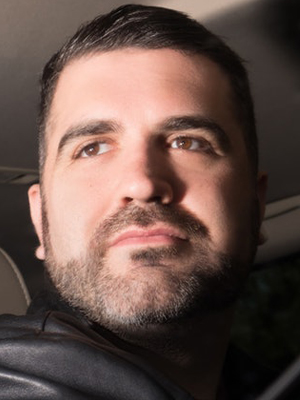 Thomas John
is a global psychic sensation. Hosting sold-out events, Thomas John is one of the nation's most coveted psychic mediums with influencers. Thomas John, gifted since birth, connected with the spirit of his late paternal grandfather at the tender age of four and correctly described to his parents the location of a missing wrist watch that had haunted the family for years. Thomas John has also had countless visions surrounding medical breakthroughs, political events, and natural disasters, which have come to pass in record time. He is author of the book Never Argue With A Dead Person: True and Unbelievable Stories from the Other Side.
Anna Raimondi is a gifted and extraordinary clairvoyant author of Conversations With Mary: Messages of Love, Healing, Hope and Unity. Through Anna's unique gift of intuition, she channels wisdom and healing, sharing insight, guidance and direction for your soul's path. Anna appeared on "Dr. Oz" discussing "the other side," and lectures around the country.
Lai Ubberud, author & Houston Press award-winning psychic, comes from a long line of European Psychics. She is in the Glamour Hall of Fame. She is a Medium, Psychic, Animal Communicator, and Radio/TV personality. Lai the European Psychic was the Award Winner for "Best Psychic of 2005" and "Best Pet Psychic of 2007" from the Houston Press. Member of the American Association of Psychics. http://www.laiubberud.com
Dawn Lynn
is a fourth generation medium with over ten years experience as a professional medium and teacher. Having met with thousands of individuals from all over the world, Dawn Lynn knows that everyone is intuitive and she is passionate about normalizing mediumship. To achieve this goal, she travels the country providing inspirational and educational lectures, creates content for her YouTube channel and blog, and is a published author.
Karyn Reece
is a sought-after international Psychic Medium whose media profile is replete with top name TV & Radio appearances including TLC, A&E, Biography, Discovery Channel, CW, and many other media outlets. What sets Karyn apart from those in her field is her ability to provide very detailed information such as names, numbers, dates, and times. www.karynreece.com
Leslie Anne is an extraordinarily gifted and passionate psychic, medium, healer, empath, and channel with a strong and clear connection to spirit, making her a uniquely approachable communicator. Leslie received her Psychic Medium certification from the Intuitive Way in Northern California and The James Van Praagh School of Mystical Arts. "Your Experience is my Privilege!"